In the last 7 days, you should
have only watered:
0 Days
Irrigation Maintenance
Maintenance of the Irrigation System is Essential for Efficiency and Proper Coverage
Regular Maintenance
Regular maintenance of your irrigation system is as important as an efficient design. Like any mechanical system, all aspects of the system need to be operating correctly to maintain the efficiency and effectiveness. Misaligned and damaged sprinklers result in poor system performance. Scheduled maintenance will ensure your landscape is green and healthy, maximize water efficiency, and minimize water costs.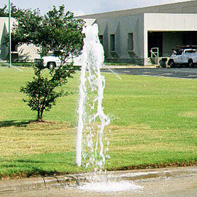 Common Maintenance Concerns:
broken or damaged sprinklers
mainline and lateral line leaks

slow leaks are difficult to detect by untrained professionals

tilted and misaligned sprinklers
efficient water application - matched precipation rate

are the sprinklers applying water evenly and efficiently

efficient irrigation scheduling

is the water being absorbed in the soil or running off
watering too long resulting in run off and waste
watering too shallow - surface watering
How Often is Maintenance Required?
There is no definative answer to that question. Irrigation normally operates during the early morning hours when no one is paying attention. There are numerous factors that can effect the efficiency of your irrigation system: heaving from frost the previous winter, vandalism, normal wear and tear, inadvertant damage from lawn mowers, power raking, aeration, vehicles, as well as numerous other causes. The more likely the system may be damaged, the more frequently the system should be inspected.
A system should be inspected at least once or twice per season.
Winterization: The Most Important Service
The least understood but most important service of any irrigation system is the annual Winterization. When performed correctly, wear and tear is kept to a minimum and your irrigation system will last for many years. Irrigation systems should be winterized with a high volume of air under low pressure. Too much pressure creates heat and most modern sprinklers are made from plastic and are water lubricated. The outcome of improper winterization with high heat and no lubrication is obvious - an exponentially reduced lifespan of the system. Professional Irrigation Contractors will perform your winterization correctly. Be aware of low fees - if it sounds too good to be true, IT IS!
Jetstream Irrigation will always winterize your system correctly!
Jetstream Irrigation can Design a Service Package that Works for You!